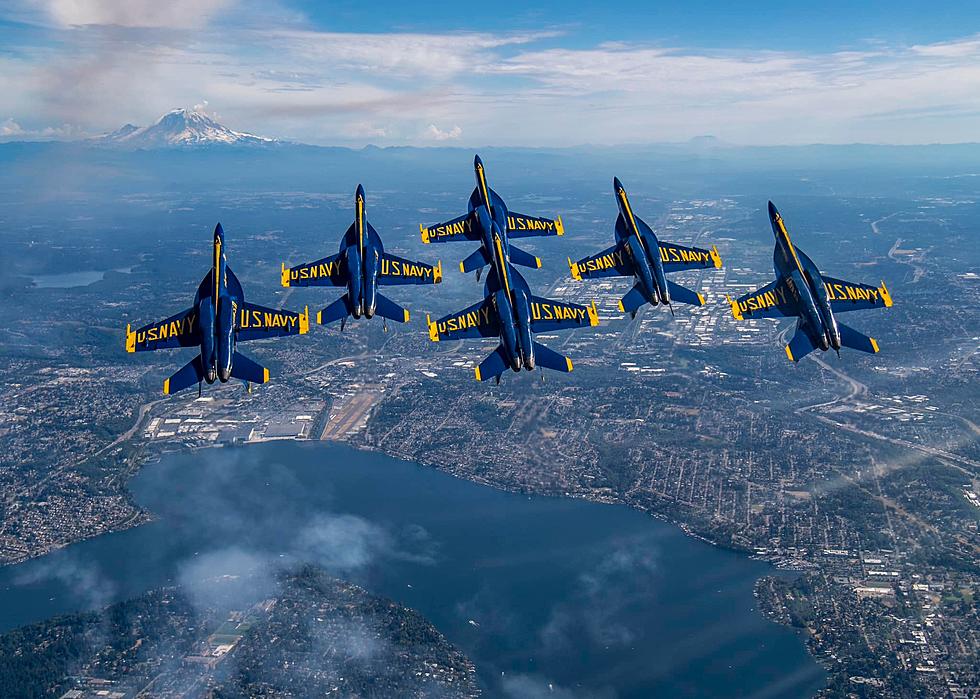 Female Blue Angels Pilot is Breaking Barriers
U.S. Navy Blue Angels (Via Facebook)
This past Friday, (August 7th, 2023) myself and my family joined dozens of excited people, waiting for the start of the Blue Angels show over Lake Washington. We watched from a tennis court, in a park sitting just above the I-90 Mercer Island Lid.
Just as we arrived, we immediately heard the loud roar of "Fat Albert" the large 4 propellor engined C-130 Hercules. "Fat Albert" serves as the Blue Angels support aircraft and opening act, vibrated the sky above us.
A few minutes later the iconic six blue & gold painted FA-18 Super Hornets (the same aircraft featured in Top Gun Maverick) arrived to twist, turn and road over our heads. Its an impressive site that I've seen for decades.
On this day I got two great surprises: 
---
* The traditional six Blue Angels were joined by "plane #7" whose pilot normally does media relations and works as the Blue Angels MC. It was great to see the traditional "Diamond Four" joined by THREE supporting solo jets!
---
* My wife read on social media: Flying Blue Angels #3 this year is US Navy Lieutenant Amanda Lee from Mounds View, Minnesota. She is the first female to fly with the iconic US Navy Demo team.
---
Wow, we we're witnessing history!
Lieutenant Amanda Lee, callsign, "Stalin" is going through her first season with the Blue Angels.
Although Lee is the first fighter jet pilot to fly with The Blue Angels, she is actually the second female pilot to fly for the team. Marine Major Katie Higgins broke that barrier in 2014 flying  "Fat Albert" for two seasons.
37 year old, Amanda Lee was named to the Blues in September of 2022.
She completed 5 months of training to get her and her fellow team ready for the 2023 season that kicked off in March.
Meet the members of the 2023 Blue Angels
Navytimes.com reported: 
'Lee is one of six Navy personnel to join the ranks of the Blue Angels for the 2023 season. In her new role as the Left Wing No. 3 demo pilot, she will further the legacy of female aviators proudly serving in the Navy around the world. For over 55 years, hundreds of women have served with the Blues in a variety of capacities.' -NavyTimes.com
---
Here's her 16 years of hard work that got her to where she is now:
In 2007, while attending the University of Minnesota Duluth. She enlisted in the Navy as an aviation electronics technician.
In 2009, she was selected to commission as a pilot through the "Seaman-to-Admiral" program. 
In 2010, she attended the Naval Science Institute for officer training in Newport, Rhode Island
In 2013 Amanda Lee earned her bachelor of science from Old Dominion University in Norfolk, Virginia & her commission in August 2013.
Reported to NAS Pensacola, Florida, in the same year to begin training as a naval pilot. 
In 2016, Amanda Lee got her hard earned & coveted naval aviator wings.
---
Lieutenant Lee went on to serve two combat deployments aboard the aircraft carrier USS Harry S. Truman supporting "Operation Inherent Resolve, " "Operation Freedom Sentinel" and "NATO Exercise Trident Juncture." 
Amanda has logged 1,400 flight hours and made 225 carrier landings.
She recently told ABC News program, America This Morning:
'When I come into the ready room, I'm a pilot first, a person second, my gender isn't really an issue.' -US Navy Lieutenant Amanda Lee

 
---
INFO: NAVYTIMES.com, ABC's "America This Morning"
15 Amazing Facts About the U.S. Navy Blue Angels
The U.S. Navy Blue Angels Aerial Demonstration Team is an incredible thing to see. Scroll on to learn some amazing facts about the Blue Angels.
25 Photos of the Blue Angels That Will Blow Your Mind
Chris Conley, who owns 270 Drones Aerial Imagery, captured these incredible photos of the Blue Angels during their practice run for the 2021 Owensboro Air Show in downtown Owensboro, Kentucky.