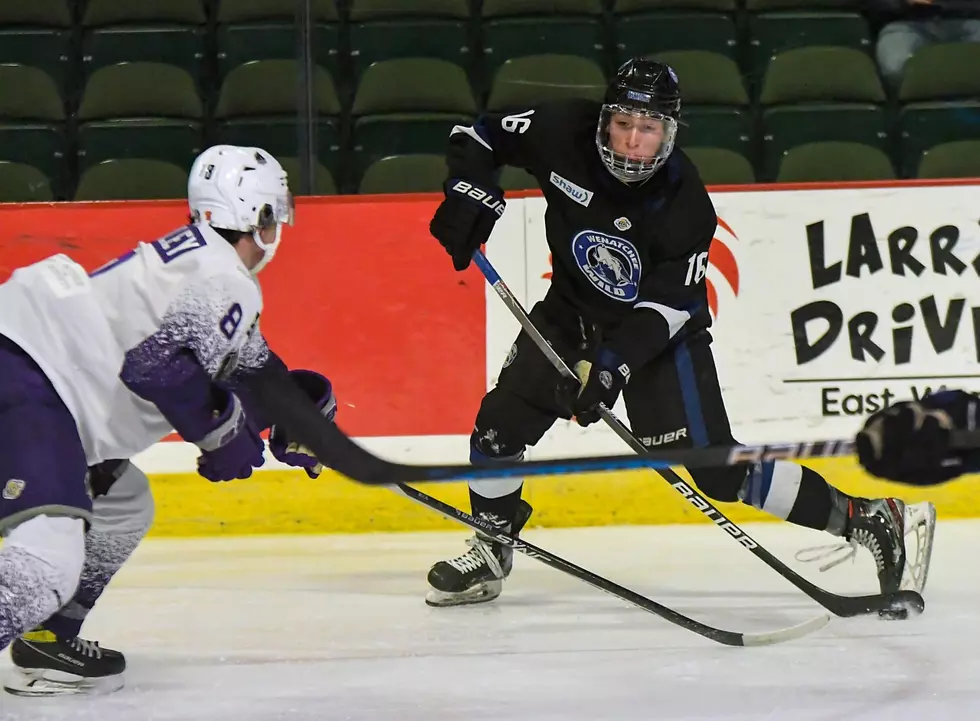 WENATCHEE WILD STORIES – #16 Michael Valdez
Wenatchee Wild
The Wenatchee Wild is a Junior A hockey team who play in the British Columbia Hockey League.
The BCHL is a great league to earn a full ride scholarship at Universities across North America. 
The Wild play in the 4,300 seat Town Toyota Center. "The Wolves Den" has provided loud support during their play in the NAHL (North American Hockey League) from 2008 - 2015 and recently in the BCHL (from 2015 to present). 
The Wenatchee Wild are led by Head Coach Chris Clark.
---
Our ninth edition of this seasons Wenatchee Wild Stories - Features forward #16 Michael Valdez. 
Michael Valdez is a 19 year old forward - playing his first season in Wenatchee. Michael arrived after spending a year in the NAHL, with the Springfield Jr. Blues. Michael and David Hejduk were teammates, while playing for the Colorado Thunderbirds 16U AAA team.  Michael Valdez has committed to play his college hockey in Colorado Springs with the Colorado College Tigers.
Connor: Michael, thank you for taking time with us. Where do you call home?
Michael Valdez: Westminster, Colorado – near Boulder.
C: What is your favorite NHL team?
MV: The Colorado Avalanche.
C: Who is your favorite NHL player and why?
MV: Auston Matthews, (Center for the Toronto Maple Leafs)  because of his style on and off the ice
C: What is your earliest memory of hockey?
MV: Going to the Quebec Peewee international championships.
C: Who inspired you to want to play hockey at a higher level?
MV: I would say my dad, he always pushed me.
C: What do you like about Wenatchee?
MV: I love the views, the mountains.
C: What are your favorite places to eat in Wenatchee and what do you order?
MV: I don't know if it's a place to eat, but I love Mela – they have really good coffee. I get a dark roast there.
C: What is your favorite opposing arena to play at and why?
MV: I would say Salmon Arm – the energy in there is always awesome.
C: What is something Coach Clarky has taught you since you joined the Wenatchee Wild?
Michael Valdez: I would say getting to the net and being a foot away from the goalie. That way you can bang in the rebounds and not just be stuck tied up with a defenseman.
Connor: Michael, thanks for taking time with us!
The Wild are back home in the Wolves Den for the next two weekends!  February 10th/11th and February 17th/18th
---
Friday night February 10th
Nanaimo @ Wenatchee Wild
7:05 pm puck drop
Battle of the Bands Nights (presented by Wenatchee Valley College)
Town Toyota Center - Wenatchee, WA
Radio: Newsradio 560 KPQ (and on the free KPQ app for ANY device)
Streaming online: HOCKEYTV 
---
Saturday night February 11th
Coquitlam @ Wenatchee Wild
6:05pm puck drop
Ladies Night & LED Flashlight giveaway
Town Toyota Center - Wenatchee, WA
Radio: Newsradio 560 KPQ (and on the free KPQ app for ANY device)
Streaming online: HOCKEYTV
---
Friday night February 17th
Cranbrook @ Wenatchee Wild
6:05pm puck drop
Multicultural Night
Town Toyota Center - Wenatchee, WA
Radio: Newsradio 560 KPQ (and on the free KPQ app for ANY device)
Streaming online: HOCKEYTV 
---
Saturday night February 18th
Cranbrook @ Wenatchee Wild
7:05 pm puck drop
Sportsman Night
Town Toyota Center - Wenatchee, WA
Radio: Newsradio 560 KPQ (and on the free KPQ app for ANY device)
Streaming online: HOCKEYTV 
---
Single game - Partial and Full Season TICKET INFO: