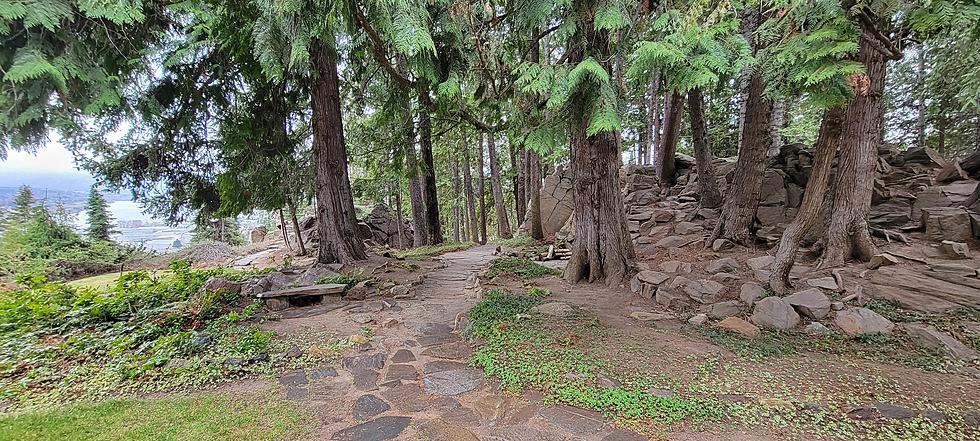 Ohme Gardens is a Wenatchee Oasis
Ohme Gardens (Facebook)
As the sun rose over the Wenatchee Valley, the gates of Ohme Gardens opened to welcome the first visitors of the day. The air was filled with the sweet scent of blooming flowers, and the sound of trickling water from the garden's four waterfalls and seven pools.
The gardens were a vibrant and peaceful oasis, surrounded by towering evergreens and lush vegetation. Visitors wandered along the mile long natural stone pathways, stopping to admire the breathtaking panoramic views that stretched out across the Wenatchee Valley below.
Some took a seat on the stone benches that were thoughtfully placed throughout the gardens, soaking up the tranquility and beauty around them. Others explored the gardens more actively, admiring the diversity of plants and flowers that thrive in this unique environment.
As the day wore on, the gardens grew more crowded, with visitors of all ages and backgrounds strolling through the winding pathways. Families with young children wandered through the gardens, pointing out the different plants and animals. Older couples held hands as they wandered slowly through the more secluded areas of the gardens, lost in their own private world.
As the sun began to set, the last visitors of the day made their way back to the entrance, reluctant to leave this magical place behind. They knew they would return soon, eager to experience the ever-changing beauty of Ohme Gardens once again.
Ohme Gardens is open to the public, April 15th to October 15th. Their hours are from 9:00 a.m. to 6:00 p.m. Keep in mind, the last entry into the gardens is 5:15 p.m
Ohme Gardens "a nine-acre wooded botanical garden perched on the hilltop above Wenatchee"
3327 Ohme Rd, Wenatchee, WA
(509) 662-5785
10 Beautiful Botanical Gardens Across the SouthCoast
When the season is right, there are several spectacular gardens around the SouthCoast that are blooming with rows and rows of beautiful flowers. Here are some of the most popular places to tiptoe through the tulips and so much more.