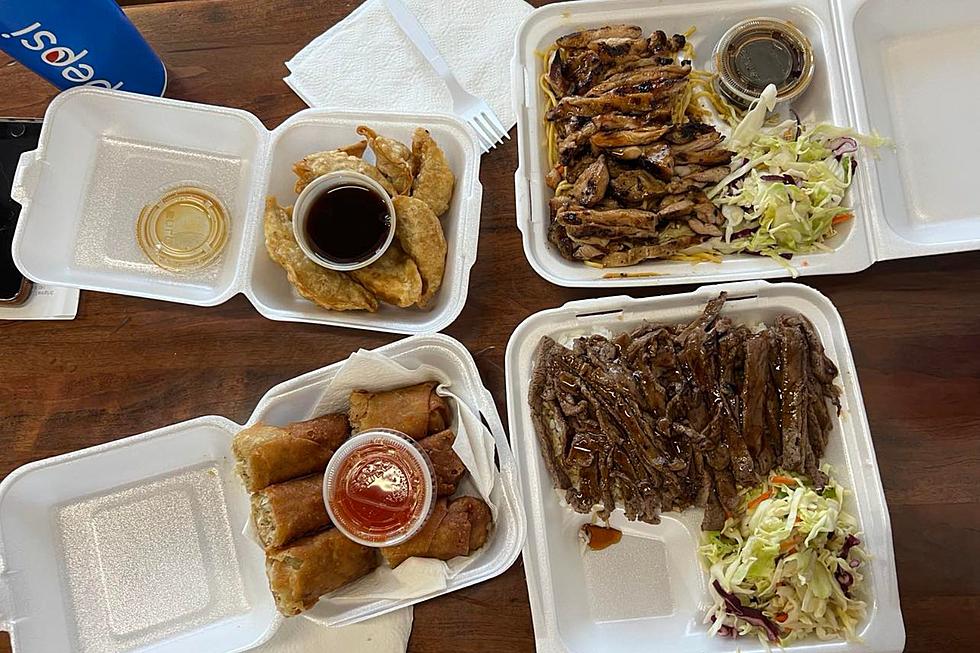 Original J's Teriyaki, East Wenatchee's Local Hot Spot
Photo Credit: Aly
The other night while trying to decide where to eat dinner, I casually mentioned,
"Hey what about Original J's??"
The surprising responce I got back was,
"I've never had food from there."
Uhm, excuse me?! What?!
So yes, off to Original J's we went.
Where you can order all your teriyaki favorites! Pot stickers, egg rolls, noodles, chicken, pork, beef, katsu chicken. As I type this, I almost wish I made an order to go to have for lunch today. 
This locally owned and operated gem is just the meal you are looking for. 
Daily Specials like, Monday night was two Pork meals for only $20. Not bad right?! Within that order, you get a healthy heaping of teriyaki pork, sliced up and laid on a bed of rice, a side of their coleslaw and an extra teriyaki cup so you can drizzle that all over your goods.
The picture above is what we decided to eat.
You have an order of three egg rolls, pot stickers.
My meal was the "Beef Teriyaki."
My dates order was the "Teriyaki Chicken with noodles instead of white rice."
No, it was not a "to-go" order, the meals are served in these boxes, for in my opinion, convenience.
Also note, when you do decide to eat in the restaurant, their phones ring off the hook. Which, I love! Means they stay busy, and we love when a local business shines.
Original J's is a "must stop at," location when in the Wenatchee Valley. 
---
Stress Relief: Check Out This Japanese Bath House in Texas
---
98 Photos From The Beautiful Anderson Japanese Gardens
Anderson Japanese Gardens, Rockford, scenic
---
Guest Chef At Kobe's II Japanese Steak House
Special Chef Came To Kobe's