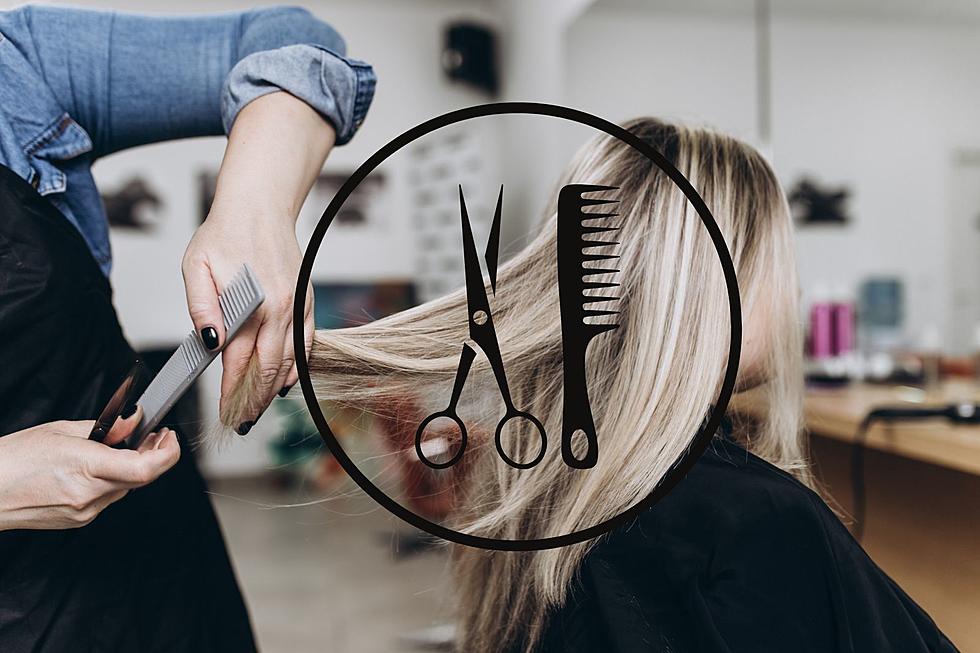 Top 10 Beauty Salons in the Wenatchee Valley (yelp)
Photo Credit: Aly/Canva
Getting your hair done can be a very personal choice and we want the best of the best to do our hair, right? Well, I've done some digging on Yelp, and here's what they recommend for:
---
Top 10 Best Hair Salons in the Wenatchee Valley:
1. Michael David Hair Design - "I've been going to Michael for over 17 years. He is an top tier alchemist! Exceptional stylist, great personality, beautiful studio, I highly recommend!" - Michele H
MICHAEL DAVID HAIR DESIGN - 147 Easy St, Wenatchee, WA - Services - Yelp
---
2. Feathered Salon - "Best haircut I've had in a long time! Susie really listened to what I was looking for and cut my hair exactly how I wanted it.
It turned out great! I recommend her for getting a haircut you'll be really happy with. She's fantastic and knows what she's doing!" - Sanya C
FEATHERED SALON - 23 S Wenatchee Ave, Wenatchee, WA - Yelp
---
3. Real Beauty Hair and Nail Salon - "Have been getting my hair done by Kristi Mayer since I moved back to Wenatchee in 2014! She has proven her talent on my many hair colors and styles since, she is my go to!" - Jordan U
REAL BEAUTY HAIR & NAIL SALON - 18 Photos - 103 Eastmont Ave, East Wenatchee, WA - Services - Yelp
---
4. Carpe Diem - "I've been following Brooke around for years and especially now that she is at Carpe Diem the experience and result is nothing short of wonderful. The salon is cute and relaxing to be in. I'm a guy and what she does is while she's shampooing your hair she places a hot towel on your face and gives your scalp a nice massage. Always makes me feel great! Just go, you'll love it.  :)" - Derry F
CARPE DIEM - 12 Photos - 217 First St, Wenatchee, WA - Yelp
https://www.instagram.com/p/ClM_EYDvcUV/
---
5. The Hair Loft - "I wa visiting from out of town for a few weeks and needed a cut and I mean chop!!  I was sooooo happy with the end result.  Anytime I come back through I will be stopping in for a trim!" - Jenn B.
THE HAIR LOFT - 55 Photos & 28 Reviews - 537 Orondo Ave, Wenatchee, WA - Yelp
---
6. Luxe Hair Studio - "Josh is a pretty dang chill guy! I enjoy getting a clean cut from him. It takes him about 20-30 minutes to cut my hair which I enjoy because I feel like he is actually trying to make my hair look good. He finishes up with fine neck trimming and make the hair line sooooo fine and smooth. For a man's haircut, it's 25 dollars. I understand the price is a little higher compared to other hair salons but my man Josh puts in the effort and it's worth it. Walk-ins are welcome now since there are more stylists but if you want your haircut with Josh, you most definitely have to make an appointment at least a few days in advance." - Aaron Y
LUXE HAIR STUDIO - 636 Valley Mall Pkwy, East Wenatchee, WA - Yelp
---
7. Hello Gorgeous - "Had a waxing appointment with Barbara and she was/is amazing.  It Was my first time ever and she made the experience very , very comfortable. I would recommend her anyday of the week to all my friends and family. If your looking for a waxing tech who is quick and efficient I would recommend Barbara at "Hello Gorgeous salon" - Krysta S
HELLO GORGEOUS! - 11 Reviews - 1139 N Princeton Ave, Wenatchee, WA - Yelp
---
8. Bella Vita Salon - "Everytime I come in Andrea always makes me feel so welcome - always professional - love coming here to be spoiled and my hair always turns out amazing!" - Jacqueline S.
BELLA VITA SALON - 314 S Mission St, Wenatchee, WA - Yelp
---
9. Salon Pure - "I was looking for a last-minute haircut on New Year's Eve, and I couldn't recommend another salon more. She was incredibly sweet and social the entire time, and very knowledgeable on practically everything I could think of hair-wise. My hair feels ten times softer and healthier just from a simple cut & shampoo! I don't think I'll be going anywhere else any time soon. Thank you for the amazing job!!" - Cassidy H
SALON PURE - 25 N Wenatchee Ave, Wenatchee, WA - Yelp
---
10. Cuts and Fades - "Very friendly, great space, and my best hair ever. You can tell they take pride in their work and it shows. I had all over color, highlights, and haircut done. It was the most meticulous and detailed job I've ever received. Was very happy with my hair and will return!!" - Lorrie C
CUTS & FADES - 109 Photos - 1004 Springwater Ave, Wenatchee, WA - Yelp
---
Honorable Mention:
Shear Magic Salon - "Kelli always does great on my hair and Serena on my lashes!!
All the ladies at the salon are super nice and welcoming" - Svetlana N.
SHEAR MAGIC - 401 N Miller St, Wenatchee, WA - Services - Yelp
---
Check out how the list was made and more reviews below:
Top 10 Hair Salons Near Me Wenatchee, WA 98801 - Last Updated April 2023 - Yelp
---
10 Items That Seem Odd But Can Go In Your Hair - (Gorilla Glue is NOT on this list)
For obvious reasons, Gorilla Glue is NOT on the list. But, you might be shocked at these other odd items that seem to be go-to products for a variety of hair care situations.
---
10 Artists With the Most Iconic Hairstyles in Rock + Metal
Hi, my name is AJ, and I am the vocalist of the horror-influenced metal/rock band We're Wolves. When I'm not creating and playing music with the band, I am a licensed professional barber in Boca Raton, Fla. I've been in the industry cutting hair professionally for eight years.
It has always been rad to see how trendy haircuts are interconnected with music. You can tell a lot about a band just by their hair. Whether they're goth, rock, metal, punk, etc., hairstyle plays a critical part in the image of a band. Take it from me, a licensed professional guy in a metal band who cares a lot about his hair.
Let's jump into my top 10 most iconic hairstyles in rock and metal.