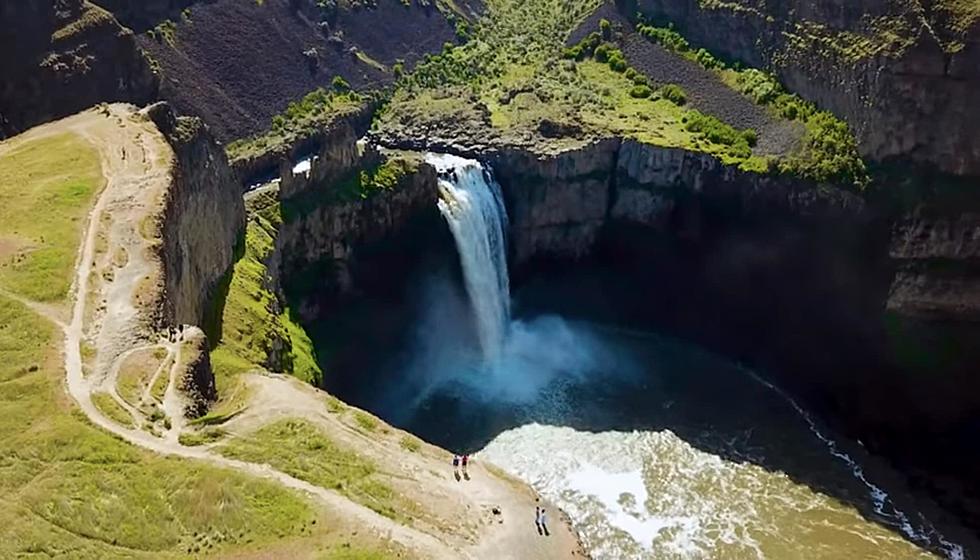 The Seven Wonders – East of the Cascades!
Palouse Falls CREDIT: Check Mix (via YouTube)
I want to thank Iryna and Leonid for their Crazy Goat blog. Here is their list of wonders, east of the Cascades - with my spin on it.
An interesting omission from this list was Leavenworth. We and people from all around the world LOVE the crown jewel of North Central Washington,
Editors note: I'm glad they didn't list our beloved Bavarian town. There's so much more to the 509 than just Leavenworth!
---
The East of the Mountain Wonders that JUST missed Crazy Goat's 7 Wonders include: 
Alta Lake 
Great for camping with a nice, sandy warm lake. I've been here with my family and I need to go back! I'm glad it was rebuilt after the 2014 Carlton Complex wildfire damaged parts of this family-friendly park. Get more info and directions to Alta Lake near Pateros.
Palouse Falls
The almost 200-foot waterfall, slightly southeast of Washtucna is the official waterfall of Washington. Get directions & more info and go!
Soap Lake
You can't go wrong with 23 minerals and healing mud!
Wild Horse Wind Farm
Bring your older kids and take a tour and go inside one of those big wind turbines! Get more info online. Located on the Old Vantage Highway at 25905 Vantage Hwy, west of Ellenburg.
Ginkgo Petrified Forest
These 30 kinds of Petrified wood date back to 15 million years ago! Located at the Wanapum State Park Campground. 
Spokane (The Crazy Goat blog nicknamed it the "Waterfall City")
Spokane does indeed have several waterfalls in the center of town. Funny fact. I lived here for two years and never explored any of these incredible in-town waterfalls. Go deeper and read Crazy Goat's post about the hub of the Inland Empire.
---
Okay. Here are the Magnificent 7 Wonders, East of the Cascades (according to the Crazy Goat Blog)
7. Winthrop
Home to Cowboys and cross-country skiing. Winthrop is to Leavenworth what the Old West settlers are to Bavaria. Park your car and stroll the streets, in a setting of more than 100 years ago.
6. The Columbia River Gorge
Columbia River Gorge is a windsurfing mecca. Do you want to check out the nearly 100 waterfalls in the area? You'll have to venture over to the Oregon side of the river. If you drive into The Dalles, Oregon - you might notice the Google Data Center (one of nearly 30 located worldwide.) You'll have to settle for a virtual tour, as Google does not allow the general public into the site for security reasons.
5. Stutzman Ranch - The best U-pick farm!
We love helping this place get the publicity it deserves. Stutzman Ranch is right in Wenatchee's backyard.  Come for cherries, apples, pears, grapes, pluots and more! I've taken my son for apple picking after school. Which reminds me, I need to make that happen again!
4. The Amazing Dry Falls
Raging Ice Age floodwaters carved spectacular features throughout eastern Washington, creating what we see today. Here is Central Washington University professor Nick Zentner's chat on what created our marvelous Dry Falls: 
3. Steptoe Butte
The 150-acre State Park allows you to summit this great 3,600-foot monument. The WSU cycling team uses Steptoe Butte as one of their training routes. 
2. Lake Chelan
It always reminds me of a lake you'd see in the Italian Alps. I always take a deep breath after driving for 45 minutes from Wenatchee - when I get to see Lake Chelan for the first time. We're SO lucky to live so close to a lake with great places to camp, hike, bike, and relax at its many wineries.
How was Lake Chelan formed? 
1. The Grand Coulee Dam 
Still the largest American hydroelectric project ever. The Great Dam supplies electricity to over 4 million homes and businesses. Come see it in person, then stay for the tour and the light show that happens from May through the end of September. Get more info and take your family on a fun and educational visit to the Grand Coulee Dam!
10 Drool-Worthy Diners and Biker Hotspots in Washington State
Take a ride around the Evergreen State! Here are some great places to eat, perfect for hungry bikers looking to fuel up with delicious food.
39 Yummy Restaurants Guy Fieri Has Visited In Washington State
Get a taste of the best that Washington State has to offer with this list of 39 restaurants visited by Guy Fieri on his show Diners, Drive-Ins and Dives!