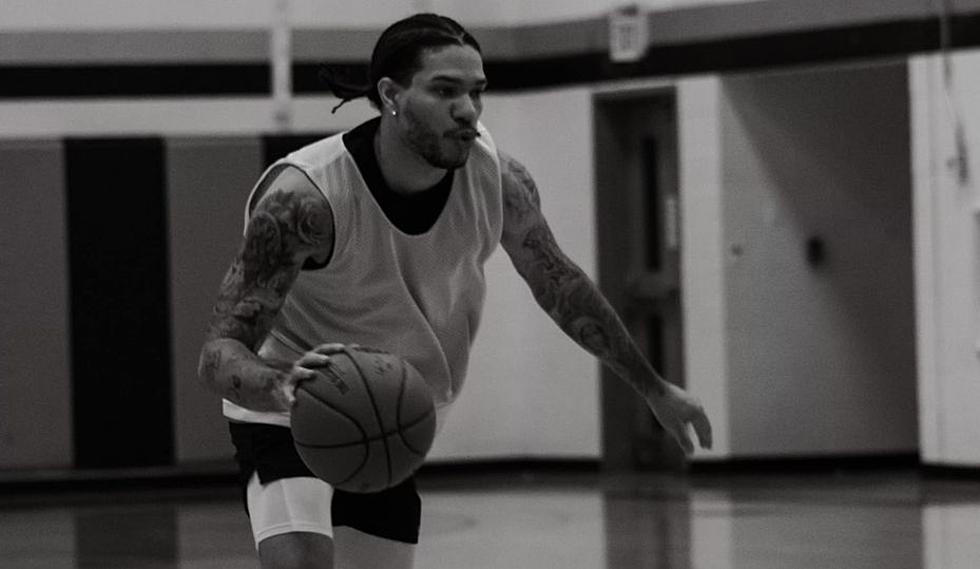 Get to Know the Wenatchee Bighorns #5 Duran Blue
Duran Blue, hard at work on the WVCC Campus - Wenatchee Bighorns
This past week, basketball players from the Wenatchee Bighorns have been hard at work learning how to flow and work with each other.  The Bighorns, under the leadership of Don Sims, are tuning up for the upcoming TBL regular season. Their training site is Smith Gymnasium, on the Wenatchee Valley College campus.
The TBL (The Basketball League) pro basketball league arrives in Wenatchee: 
Thursday March 2nd. 
Seattle Super Hawks vs. Wenatchee Bighorns
Tipoff: 7:05pm
The Wenatchee Bighorns are part of the 9 team West Conference.
Our 8 league rivals are:
Bakersfield Majestics (Coached by Marc Mo)
California Sea-Kings (Based in San Jose - coached by former NBA player Wallace Bryant)
Los Angeles Flash (Based in Carson, California - coached by Olin Simplis)
Salem Capitals (Based in Salem, Oregon - coached by Brian Stevens)
Seattle Super-Hawks (Home court is at SPU's Royal Brougham Pavilion - coached by former NBA player and Washington Husky Alum, Eldridge Recasner)
Long Beach Blue Waves (Based in Long Beach, CA - No coaching info available)
San Diego Sharks (Coached by Brandon Cheeks)
Vancouver Volcanoes (Based in Vancouver, Washington - Home court is at the O'Connell Sports Center - Coached by Jeff Perrault)
---
Over the coming days and weeks, we will take time and get to know the players on the newly formed Wenatchee Bighorns roster. Today, we feature Bighorns Point Guard, #5 Duran Blue. 
Duran Blue is from Atlanta. He played high school ball at McEachern High School, in Powder Springs, Georgia. Duran went on to play in college at Albany Technical College (Georgia) and Lee University (Cleveland, Tennessee).
Connor: Duran thanks for helping put basketball on the map here in Wenatchee. How old are you?
Duran Blue: 31
C: Who inspired or motivated you to play basketball in college?
DB: Kobe Bryant/Steph Curry
C: How far do you wish to go with basketball, and what's your plan to get there?
DB: All I ever wanted was to become a pro and I've done that playing overseas, mission accomplished.
C: Who are your favorite players and why?
DB: Steph Curry (point guard for the Golden State Warriors) and Jordan Poole (shooting guard & point guard for the Golden State Warriors) the combination of shotmaking and ball handling is something I love, they are exciting guys to watch.
C: What other sports do you like?
DB: Premier League Soccer.
C: What is your earliest memory of basketball?
DB: I was about 7 years old, I can remember being at my uncles house watching Jordan hit that shot against the Jazz in game 6.
C: What song or album are you loving right now?
Damon Blue: Baby Money - Let The Beat Drop
Connor: Duran, Good luck on the upcoming season. We'll be rooting for you! You can follow the Wenatchee Bighorns point guard,#5 Duran Blue on Facebook.
---
The Wenatchee Bighorns are coached by Don Sims
Don comes to Wenatchee with 17 years of coaching experience. He recently was the head coach of the Seattle Mountaineers - an independent team, with the purpose of getting their players to a higher level of pro basketball. Learn more on Coach Don Sims, from a recent article on KPQ.com
Wenatchee Bighorns Team INFO
HOME COURT: Wenatchee Town Toyota Center
HEAD COACH: Don Sims
SEASON or SINGLE TICKET INFO: https://wenatcheebighorns.com/
Adorable: Baby Bighorn Sheep in Colorado Learn How to Run
Take a look at these adorable baby bighorn sheep in Colorado learning how to run. Their moms keep a close eye on them, making sure they don't run too far.