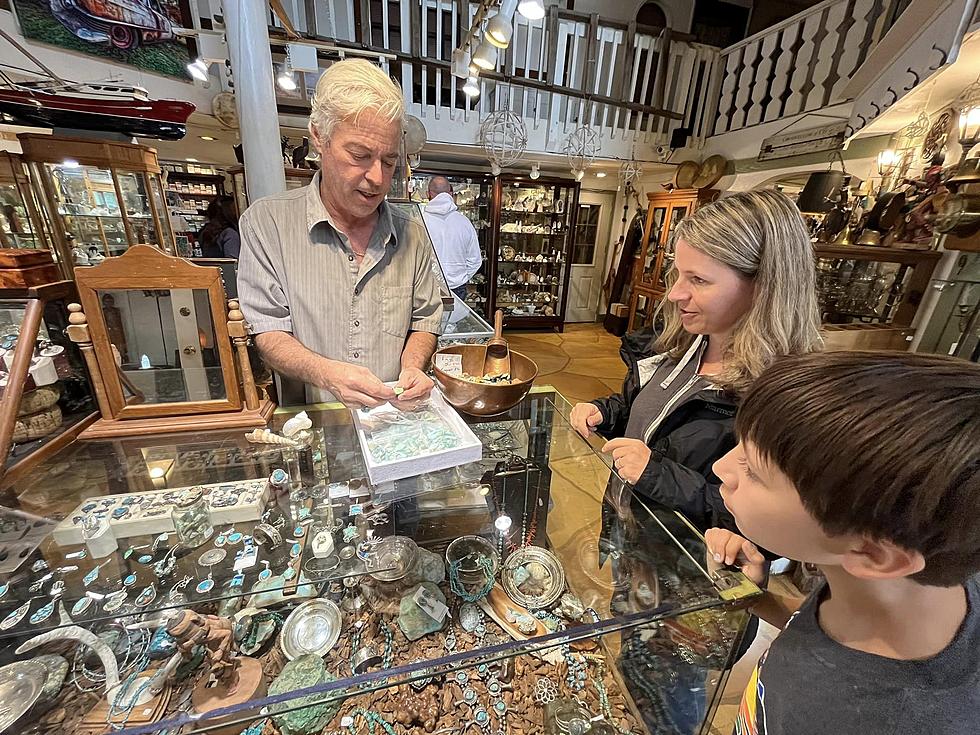 America's Premiere Turquoise Expert – is Right Here in Washington
Anacortes' Tom Freeland
America's Premiere Turquoise Expert - is Right Here in Washington
---
Tom Freeland grew up around the gorgeous blue hue of Turquoise in Kingman, Arizona.
Ranching and mining (not necessarily in that order) were the top streams of income for residents in his hometown. He grew up around natives who sold their turquoise jewelry on rugs at parks and highway rest stops.
Tom's father taught him and his siblings the art of jewelry making - a skill he passed along to his children and a select few who have taken his classes.
---
Tom and Elisabeth Freeland own Elisabeth's Cottage By The Sea in historic Downtown Anacortes, on the corner of Commercial and 7th Street. 
My father-in-law is a rockhound and passed along his passion for gems to my wife and son. Because of this - we love stopping at what we call the "Rock Shop" to see what Tom has on display.
It was on our visit, yesterday - that I paid attention and noticed his passion and expertise in all things turquoise. I told him that PBS' "Antiques Roadshow" should use him as an on-camera appraiser.
He informed my family that turquoise is formed when "acidic water comes into contact with copper. The water and copper combination then forms veins or nuggets of stone." Mining for copper and the subsequent process of separating the turquoise is rather time-consuming. With the ending of copper mining in America - only Mexico, Iran, Russia, and China are the only turquoise producers worldwide. 
---
Between serving customers, Tom described to us - the large artifact on display
This carving was mined in the early 60s. It's now the largest carved piece of turquoise in America - the 3rd largest in the world.
It's proudly displayed with mirrors to show all the details.
The beautiful portion of calming blue was a huge hit at many rock exhibits around the country, until 1995. With its touring days done - it now rests - for all to admire at Tom's shop in downtown Anacortes.
It was shipped across the Pacific (twice - due to a mistake) and carved by 5 talented carvers in the Philippines.
---
Tom's vast and expert knowledge of the Hualapai, Havasupai, and Mohave tribes is impressive. He shared how the native Americans in the American Southwest were forced to learn the art of jewelry making from the Spanish conquistadors.
The Spaniards' drive for precious metals - starting in the early 1500s -  resulted in forcing the native peoples in the American Southwest into a slave-driven industry.
The immaculate jewelry-making skill forced upon them - has been passed down for generations. This unique skill was passed along to Tom. You can take a class and learn how to make jewelry.
A Cookbook brought the Freelands to Anacortes
I asked Tom what brought him and his family to the foot of the San Juan Islands.
A book called "Coastal and Cooking" featured recipes from restaurants on the West Coast.
The Freelands decided to visit the restaurants highlighted in the book - including two in Anacortes: "Calico Cupboard" and "Gere-a-Deli." (both are still in business today.) They liked the area so much, that they kept coming back and eventually made Anacortes their home.
If a turquoise beaded necklace, ring, earring, or belt is something you're looking for - then take a road trip to Anacortes, Washington, and find Elisabeth's Cottage By The Sea. 
Elisabeth's Cottage By The Sea: 619 Commercial Ave, Anacortes, WA  98221 
360-588-1890 - elisabethscottagebythesea.com
42 Famous Alumni from Washington State High Schools
Gallery Credit: Reesha Cosby