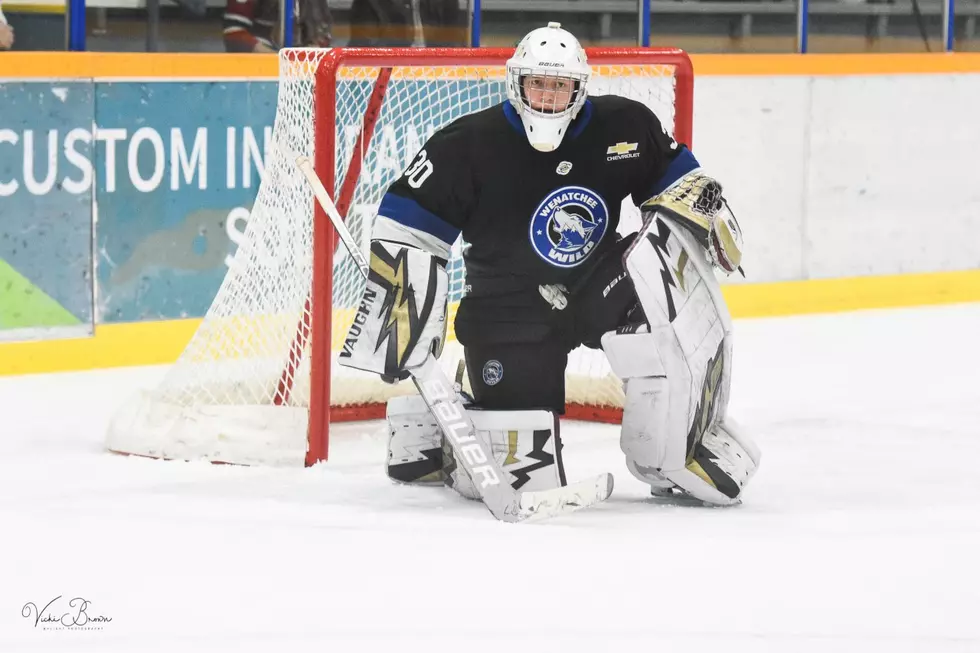 Wenatchee Wild Stories – #30 Owen Millward
CREDIT: Wenatchee WILD
The Wenatchee Wild is a Junior A hockey team who play in the British Columbia Hockey League.
The BCHL is a great league to earn a full ride scholarship at Universities across North America. 
The Wild play in the 4,300 seat Town Toyota Center.
"The Wolves Den" has provided loud support during their play in the NAHL (North American Hockey League) from 2008 - 2015. And Now in the BCHL (from 2015 to present). 
The Wenatchee Wild are led by Head Coach Chris Clark.
---
Our second edition of this season's Wenatchee Wild Stories - Features one of their two goaltenders, #30, Owen Millward
Owen Millward came to Wenatchee after playing two seasons of Junior Hockey with the Janesville Jets in the NAHL. While there, he played in 71 games and had a goals against average of 2.92 and a save percentage of .906.
Owen was named the NAHL Goaltender of the Month for February 2022.
Connor: Owen, thanks for taking time to hang out and answer some questions. Where did you grow up?
Owen Millward: Davis, CA
C: What is your favorite NHL team?
OM: San Jose Sharks
C: Who is your favorite NHL player and why?
OM: As a goalie, I've always been drawn to goalies as my favorite players. My two favorite former players are Evgeni Nabokov and Martin Brodeur, since they were the goalies that I grew up watching and made me fall in love with the position and the sport. I don't have a true favorite current player, but Connor Hellebuyck is a goalie who I really respect and aspire to be like.
C: What is your earliest memory of hockey?
OM: My earliest hockey memory is of me playing roller hockey at our local rink. I started out playing roller hockey due to convenience at age 3 and switched to ice when I was 9.
C: Who inspired you to want to play hockey at a higher level?
OM: My parents as well as my former youth hockey coach, Larry Cahn, who coached me for 5 seasons.

C: What do you like about Wenatchee?
OM: The people are really nice, and the surrounding area is beautiful, especially in the snow.
C: What are your favorite places to eat in Wenatchee?
OM: I would probably say Sumo, I am a big fan of their hibachi.
C: What is your favorite opposing arena to play at and why?
OM: I am a fan of big arenas, so while Town Toyota Center is obviously my favorite, I also like when we get to play in Penticton and Cranbrook.
C: What is something Coach Clarkey has taught you since you joined the Wenatchee Wild?
Owen Millward: Play aggressively. He made the point that I have the most success when I challenge shooters aggressively and force them to try to beat me with a shot. It is now something I try to be mindful of and make a focal point of my game.
Connor: Thanks for taking time with us!
You can follow Wenatchee Wild goalie Owen Millward on Twitter: @owen_millward
---
The Wild are currently on a roadtrip to "The Island"
They'll play three road games in the coming three days:
Friday January 6th @ Powell River Kings 
Hap Parker Arena - Powell River, BC
7pm puck drop 
Radio:
Newsradio 560 KPQ
(and on the free KPQ app for ANY device)
Streaming online:
HOCKEYTV 
---
Saturday January 7th @ Alberni Valley Bulldogs
Alberni Valley Multiplex - Port Alberni, BC 
7pm puck drop
Radio:
Newsradio 560 KPQ
(and on the free KPQ app for ANY device)
Streaming online:
HOCKEYTV 
---
Sunday January 8th @ Cowichan Valley Capitals
Cowichan Community Centre - Duncan, BC
4pm puck drop
Radio:
Newsradio 560 KPQ
(and on the free KPQ app for ANY device)
Streaming online:
HOCKEYTV 
---
The Wild's next two home games at the Town Toyota Center:
Wednesday January 11th vs. Salmon Arm Silverbacks
Town Toyota Center - Wenatchee, WA
6:05pm puck drop
Single game - Partial and Full Season TICKET INFO:
Radio: Newsradio 560 KPQ (and on the free KPQ app for ANY device)
Streaming online:
HOCKEYTV 
---
Saturday January 14th vs. Prince George Spruce Kings
Town Toyota Center - Wenatchee, WA
6:05pm puck drop
Come and support HOCKEY FIGHTS CANCER NIGHT - sponsored by Confluence Health
(Specialty jersey auction – proceeds benefit the E.A.S.E. Cancer Foundation)
Single game - Partial and Full Season TICKET INFO:
Radio:
Newsradio 560 KPQ
(and on the free KPQ app for ANY device)
Streaming online:
HOCKEYTV 
---