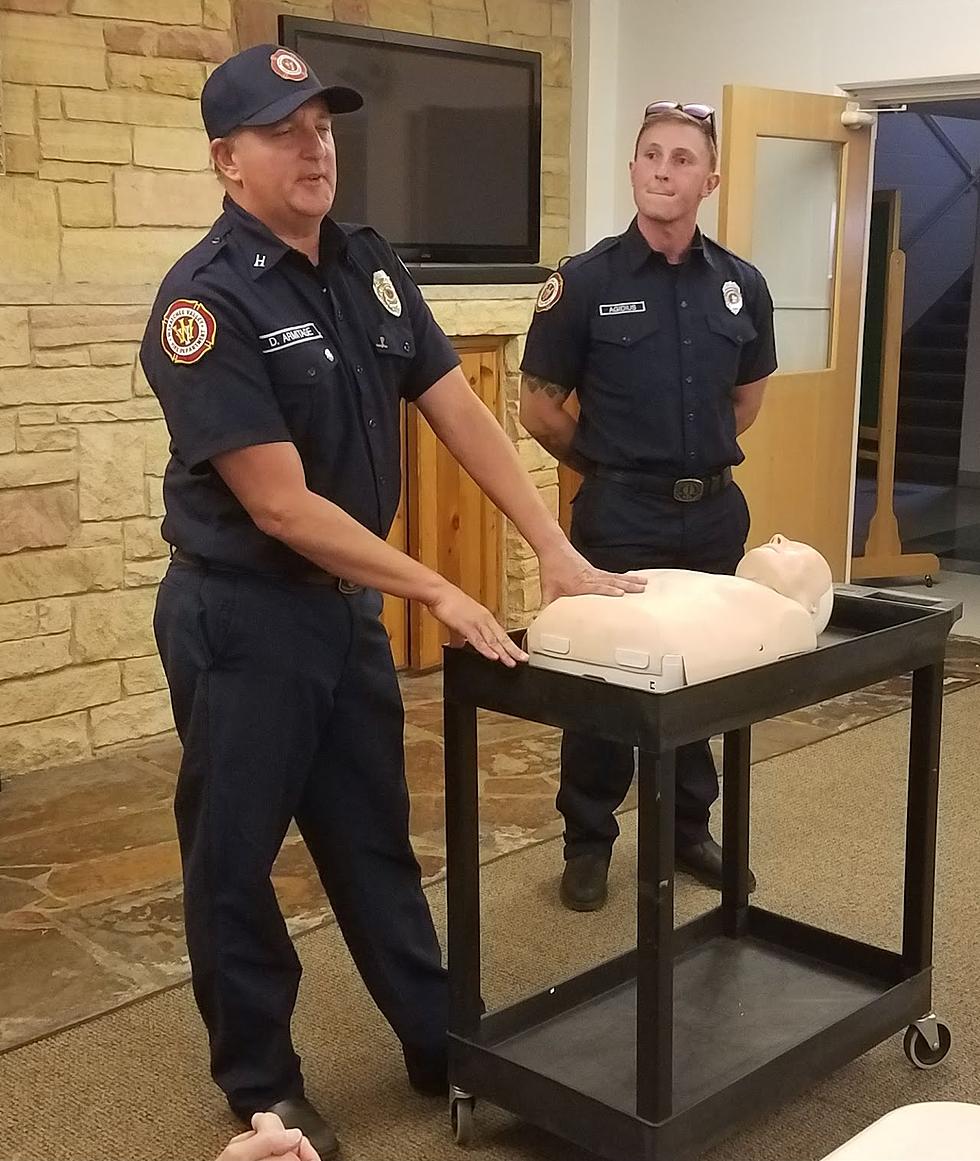 Wenatchee Firefighters Step Up to Teach Lifesaving Skills
Dustin Armitage and Kayden Agidius teaching CPR class. CREDIT: Teri St. Jean
Wenatchee Firefighters Step Up to Teach Lifesaving Skills
Would you know what to do if a loved one collapsed in front of you? Cardiovascular diseases are one of the most common causes of death in the world.
Do you know how to perform CPR?
Knowing what to do can be the difference between someone's life or death. it's important you learn CPR.
What are the 7 Steps of CPR?
STEP 1: CALL 911
STEP 2: ASSESS THE SCENE OF THE EMERGENCY
STEP 3: OPEN THE VICTIM'S AIRWAY
STEP 4: CHECK FOR BREATHING
STEP 5: 30 CHEST COMPRESSIONS - What's the golden rule of CPR? Press fast and hard on the chest
STEP 6: 2 RESCUE BREATHS
STEP 7: REPEAT THE CYCLE.
-cprcare.com
A local teacher needed a last minute stand-in, to teach local teachers how to perform CPR. Two firefighters from Chelan County Fire District 1 stepped up to teach a life-saving skill.
'At the last minute, my speaker on performing CPR to my Delta Kappa Gamma group of teachers had to cancel. I had 25 ladies ready to learn this important skill, so I started calling every medical person I could think of to fill in for my planned speaker. All responded that they were sorry, but were not available on such short notice. Then the firemen at the Sunnyslope station thought they could get some qualified firemen to help. They called back in an hour to tell me that Dustin and Kayden had volunteered to spend their time educating us on this important skill.
They rolled into the parking lot at the Methodist Church and spent the next 45 minutes with us sharing CPR success stories, answering questions, and then the how of performing this potentially life-saving technique. As we thanked them and commented on how kind they were to help us so quickly, they said that this is what they do!'
- Teri St. Jean via KindnesCountsNCW.org
21 Songs To Keep In Time While Performing CPR
When performing CPR, rather than trying to count each compression, it is suggested that you quietly sing a song that has the proper rate of beats. The Bee Gee's "Stayin' Alive" is aptly suggested as a choice. "Another One Bites the Dust", by Queen, also fits the bill but probably isn't appropriate. The following 21 songs have the proper 100/120 bpm to keep in time for chest compressions.
Gallery Credit: Brad Carpenter