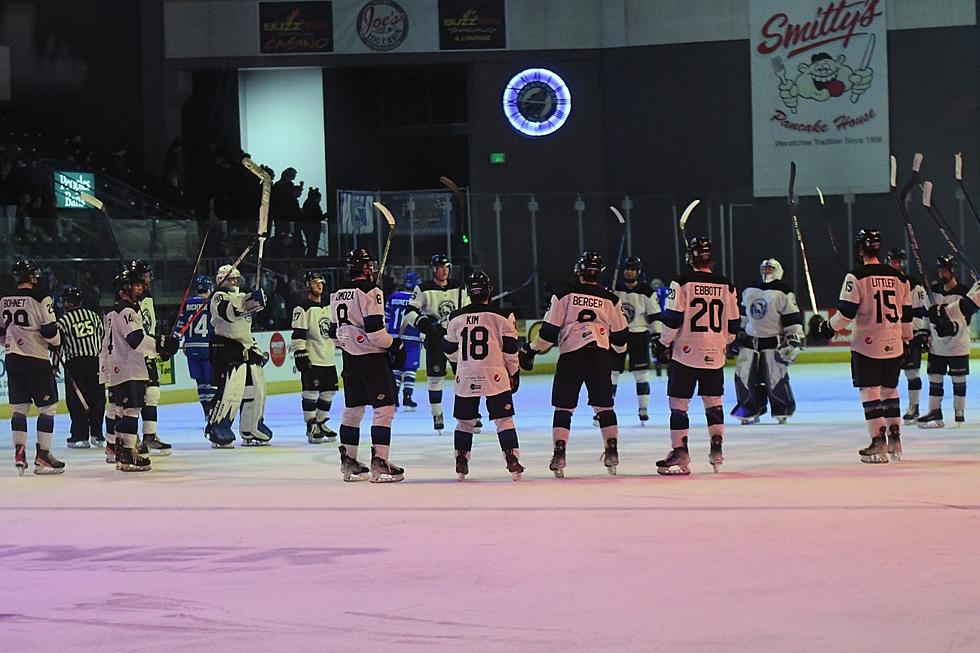 Your First Chance To See Wenatchee in WHL Action; Pre-Season Schedule Released
Wenatchee players salute the crowd after a game/Photo: Digital Media Northwest
PHOTO: Wenatchee Wild players gather at center ice to salute the crowd after a home game this past season. The Wild will host an online jersey auction for the team's white jerseys through Thursday, May 18. (Photo credit: Russ Alman/Digital Media Northwest)
AUSTIN DRAUDE
Wenatchee Wild Media Relations & Broadcast Voice
WENATCHEE, Wash. – The Wenatchee Wild announced the team's Western Hockey League (WHL) preseason schedule Monday, featuring five games against U.S. Division clubs.
The Wild will hit the ice for the first time as a WHL side Wednesday, September 6, going on the road for a 2 p.m. faceoff against the Spokane Chiefs. The first full weekend of WHL preseason competition will see the Wild host the Tri-City Americans at Town Toyota Center on Saturday, September 9 at 6 p.m. before visiting the Everett Silvertips the following afternoon for a 4 p.m. puck drop as part of the Silvertips' annual Preseason Classic.
The Tri-City Americans will host Wenatchee in a preseason tournament of their own the following weekend, with the Wild and Spokane Chiefs set to "drop the puck" on the four-game event on Friday, September 15 at 3:05 p.m. Wenatchee and Tri-City will close out the weekend at the Toyota Center in Kennewick, Washington on Saturday, September 16 at 6:05 p.m.
"We are excited to get the players to training camp at the end of August for a competitive camp," said Wenatchee Wild general manager Bliss Littler. "The exhibition games will be an important part of our selection process."
Ticket information for Wenatchee's home preseason contest against the Americans will be announced at a later date. The Wild will begin their first season in the WHL this fall, with the 2023-24 regular-season schedule to be released Tuesday. More information is available at wenatcheewildhockey.com
Updated news and information on Wild hockey are always available through the team's website and on the team's social media platforms on Facebook, Twitter, Instagram and YouTube.