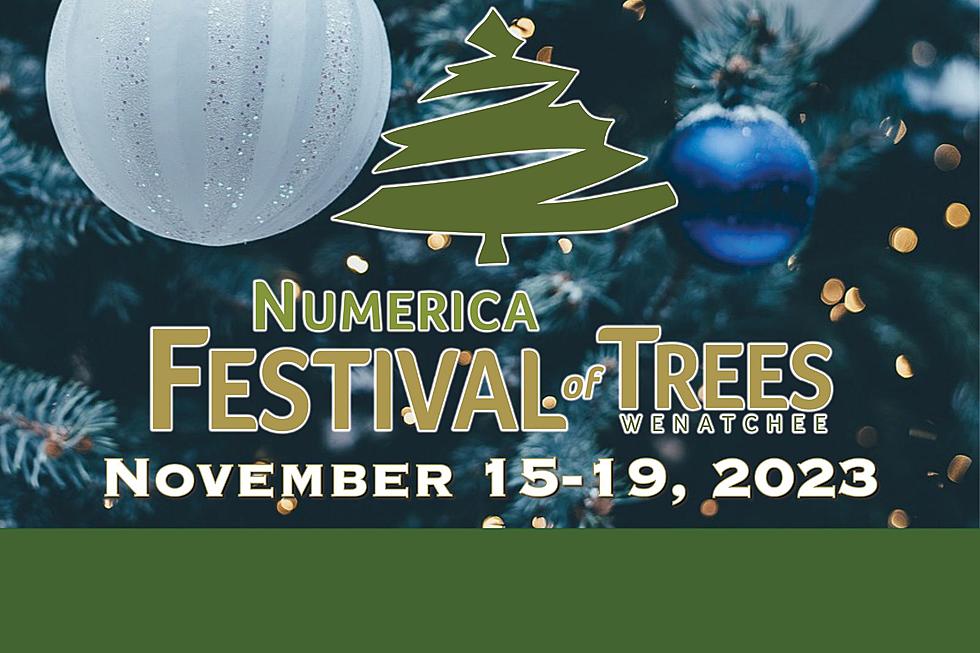 Buy Your Tickets Now for the Numerica Festival of Trees!
Numerica Festival of Trees/Aly/Canva
It's that time of year again to purchase your Tickets for the
2023 Numerica Festival of Trees! 
5 Nights of fun, with the theme this year, "A Christmas to Remember." 
What is the Numerica Festival of Trees?
"The Wenatchee Festival of Trees is downtown Wenatchee's premier holiday experience and a fundraiser for the Numerica Performing Arts Center. Various trees and wreaths will deck the halls of the Numerica PAC for the public to view and bid on throughout a week of events." - Festival of Trees - Numerica Performing Arts Center (numericapac.org)
What Type of Events are held?
Festival of Spirits - Wed. Nov. 15th - 5pm Showtime:
"This cocktail competition features six of the area's best local restaurants and bars competing for the Best Holiday Cocktail - and the guests are the ones to vote for the winners! This is opening night of the Numerica Festival of Trees, so attendees get the first chance to view the Grand Trees, Mini Trees, Wreaths, and more - participate in the Silent Auction and enter to win Raffles... Must be 21 or older to attend." Source
Free Public Viewing - Thursday, Nov. 16th to Sunday, Nov. 19th:
"Come experience "A Christmas to Remember" in the Wenatchee Convention Center lower lobby!
For four days, locally decorated Grand Trees, Mini Trees, Wreaths, and more will be on display to get you in the holiday spirit. Bid in the silent auction or enter to win raffle items, a fundraiser for the Numerica Performing Arts Center." Source
Christmas Karaoke Contest - Thursday Nov. 16th - 7pm Showtime:
"Registration to compete is $25 per act and opens October 2. Registration deadline is November 3. Christmas songs are encouraged, but not required. Groups are encouraged to participate!" - Source
Swanky Soiree - Friday Nov. 17th & Saturday Nov. 18th - 7pm Showtimes:
"Embrace the swankiness in your holiday attire as you gather for an enchanting evening on the Numerica PAC stage. Revel in a delectable spread of hors d'oeuvres, desserts, and cocktails. But that's just the beginning – prepare for an unforgettable musical experience as professional dueling pianists, Jeff  & Rhiannon (Seattle), bring your favorite tunes to life, and you can bid for your favorite songs." - Source 
Teddy Bear Time - Saturday Nov. 18th - Noon Showtime:
"Step into a whimsical world at Teddy Bear Time, set amongst the enchanting Numerica Festival of Trees. Designed to enchant our little ones, this magical event offers a captivating tapestry of stories, Christmas treats, and a visit from the big man in the red suit, Santa!
While the kids revel in holiday wonder, adults can indulge in a holiday moment with the family and seize the chance to bid on trees, or enter to win mini trees, wreaths, and more through raffle. Don't forget to secure your family ticket for the exciting Tannenbaum auction on Sunday – it's an unforgettable holiday experience that brings joy to all ages." Source
Tannenbaum Auction - Sunday, Nov. 19th - 2pm Showtime
"Step into the heartwarming world of the Tannenbaum Auction, where the merriment flows freely, and all generations are invited to wander among a captivating forest of artfully adorned 4-10 foot trees, ranging from elegant to whimsical and brimming with rustic hometown charm.
Amidst this enchanting backdrop, the real magic unfolds as Grand Trees, hand-crafted by local volunteers, take center stage in a spirited live auction, where guests enthusiastically raise their paddles for their coveted Tannenbaum treasures to take home. Savor delectable appetizers, no-host mimosas, live entertainment and more.
As the event draws to a close, we'll unveil the triumphant winners of the silent auction and raffle, making it a heartwarming celebration of the holiday season for everyone to cherish." Source
---
For More information about the 2023 Numerica Festival of Trees, Click Here. 
---
'Crown Jewel of Saratoga' to go to Highest Bid at Future Auction
Famed Riggi Palace will go to auction! See inside the exquisite estate of a Saratoga socialite and her late husband, for sale in Saratoga County.
Once on the market for $18M, the mansion known as the 'Crown Jewel of a Saratoga' will be sold at an upcoming luxury auction to the highest bidder.
Gallery Credit: Brian Cody TSM Albany
---
See Rare Items Once Owned by Eminem, Drake, Nicki Minaj, More Up for Auction
---
25 Amazing Classic Cars Being Auctioned At The Saratoga Automobile Museum
---