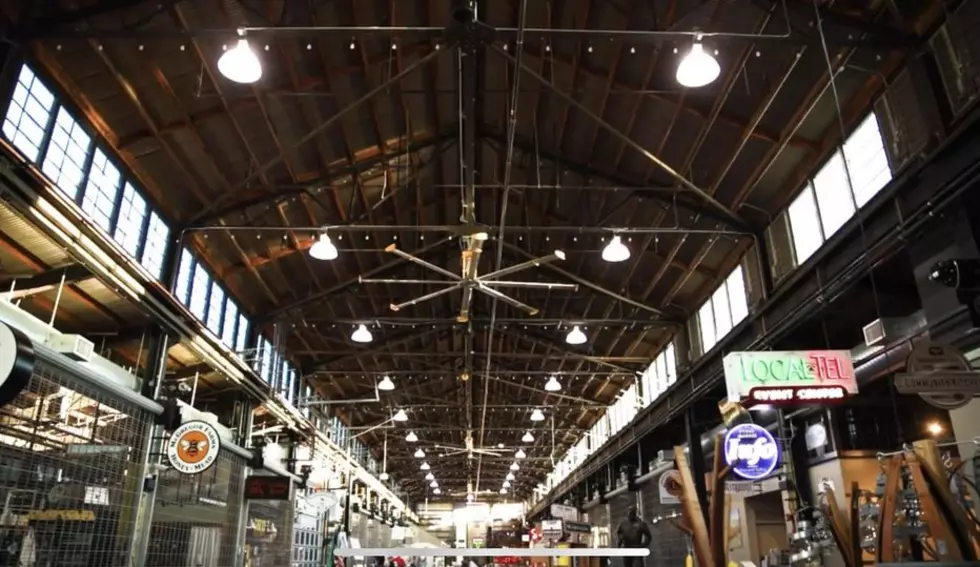 Last minute Christmas Shopping at Pybus!
voortexproductions (via YouTube)
Last week, I overheard a man giving advice. "If you haven't ordered your gift yet, you'd better buy it - in person - at a store!"
Being a procrastinator, I'm taking this wise man's advice to heart and going to Pybus Market.
The quality of life in Wenatchee has gone up tremendously when Pybus Market opened to the public in May of 2013.
Pybus is named after E.T. Pybus wno started a Steel making location, here in the Valley, in the early 1900's. The Pybus Steel Company was sold in the 1960's and it's large steel warehouse remained vacant until the mid-2000's.
Today, the bones of the warehouse are home to some great shops and restaurants. These are the places you can come and get a great, unique gift.
If you're like me and still need to get a gift for Christmas and are not sure what they'll want? Get them some "Pybus Bucks" (We'll get to that later.)
Here are the great Pybus Market Dining Options:
Cafe Columbia 
-Great Sandwiches, pastries, coffee…just an awesome place to meet friends and catch up.
Fire
- The Pizza and pasta are SO on point. Got some friends coming from out of town? Take em to Fire for lunch or dinner!
Huck @ Pybus
- This is the place for great comfort food. Breakfast is served from 8am to 2pm, Lunch is on tap, from 8am to 5pm. Owned & operated by the WIld Huckleberry…so you know its gonna be great.
Ice
- Italian Gelato, Crêpes and Espresso…the perfect place to grab dessert after your meal.
Little Red's Bakery & Espresso
- Look for the vintage silver airstream in the parking lot. Great bakery items and amazing espresso with sassy handwritten cups (that are, your choice: Safe for the workplace…or not)
South
- Fresh authentic food and beverages originating from Central and South America. You'll love the food and the bar! (The view from upstairs at the bar is one of my favorite places in town)

The Taproom by Hellbent Brewing
- I've recently been coming here to meet with friends. Come hungry for great food and great beer. They feature 20 tap handles and a full bar.
You'll also encounter some specialty foods vendors, where quality ingredients are a must:
D'Olivio
- Many gifting ideas are here - from three dozen kinds of olive oils and even more balsamic Vinegars. Healthy pasta, free of gluten from Italy. Tea…coffee..bloody mary mixes? Kitchen accessories? Come browse and hook up your loved ones with a great gift.
Jones of Washington
- We are SO lucky to have great wineries in our State. (I wrote a story on the fact that have the same North latitude as France). Jones of Washington is "a family owned and operated winery that is committed to small-batch artisanal wines crafted with all the love and attention that people who are closely tied to the land can make."
McGregor Farms Honey & Meadery
- They offer local honey (great to consume and get your body used to the local pollen floating in the air, when it warms up) and a chilled glass of mead.
NOTE: I had to look up what Mead is. "honey and water that is fermented with yeast and can also be flavoured with a range of fruits, hops, or spices and comes in both still and sparkling form." (Source: Lyme Bay Winery)
Mike's Meats & Seafood
- Locally owned, offering quality, local food: Painted Hills Natural Beef, Draper Valley Natural Chicken, and variety of seafood. They even offer smoked meats.
Royal Produce
- Seasonal, affordable produce from Santos and Zenaida Guadarrama, who have been farming since the late 1990's on their land in Royal City. Much much love to our local Ag workers.
The Cheesemonger's Shop
- Great selection of Imported and domestic cheeses…yes!
Off The Hill
- Stemilt Creek Winery and Archibald James Wine and Cider provide great products that you can sample in their tasting room.
The locally owned Pybus Market shops are unique with hard to find items, you won't find anywhere else.
Arlberg Sports (Riverfront Store)
- Rent a bike and hit up the Wenatchee Loop Trail, located right outside the shop. My in-laws know that I LOVE Arlberg Sports - which is why I seems to always get an Arlberg gift card in my stocking.
Artisan Day Vendors
- All kinds of crafts, art and more. Get your loved one a gift, No one else will have.
Balsomroot Boutique at Pybus
- Handcrafted jewelry, clothing and much more. Great gift ideas are here.
Art Alley
- Want some art with local themes for your walls? Stop by, browse and make someone's Christmas with a print. 
---
If you can't find what you're looking for - go to the visitor booth and buy your family some PYBUS BUCKS. These make for great stocking stuffers and yes, I'd jump for joy if someone bought me some of these cool looking wooden coins.
Pybus Public Market
Address: 3 N Worthen St, Wenatchee, WA 98801
Phone: (509) 888-3900
https://pybuspublicmarket.org/