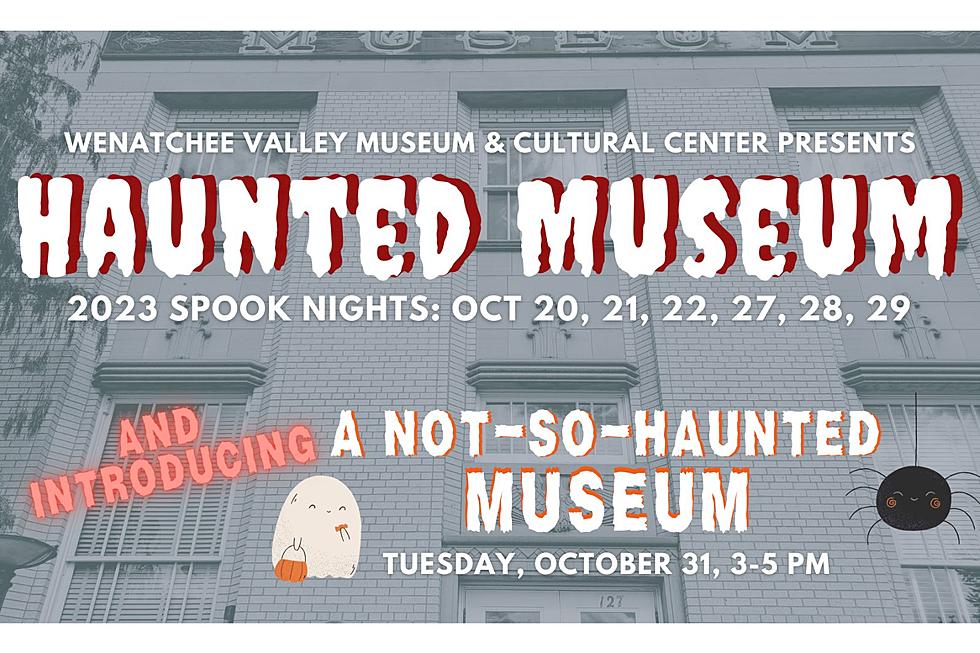 Wenatchee Valley Museum & Cultural Center's Haunted Museum
https://www.wenatcheevalleymuseum.org/haunted-museum/
Halloween is always so fun with all the different events around the Wenatchee Valley. This year's Museum & Cultural Center is a spookily good time!
Terra Sokol, Museum Spokesperson, recently chatted with one of the news reporters in our building, check out what was said about the coming Spooks! Wenatchee Museum Halloween Attraction Billed As Bigger This Year (kpq.com)
The nights leading up to the big Scary Halloween night will be:
Spook Nights! October 20th-22nd & October 27th-29th
And while you Trick or Treat on The Ave, stop by the Museum for their "Not-So-Haunted" Museum from 3pm - 5pm.
---
This is what the Wenatchee Valley Museum & Cultural Center has to say about the Haunted Museum:
"Journey through the museum's creepy underground hallways, intricate mazes, secret passageways, and several themed rooms that rival scenes from Hollywood horror classics.
Don't be fooled into thinking this is your average haunted house experience. The Haunted Museum is the premier destination for thrill-seekers and museum enthusiasts whose taste for entertainment runs…dark. Before embarking on your eerie journey, enjoy spooktacular refreshments at the museum." - Source
With the last tour happening around 9pm of each of the nights.
---
The "Not-So-Haunted" Museum is geared towards the whole family in conjunction with Trick or Treat on The Ave.
---
Please be advised, if you do choose to go to The Haunted Museum that you will be filmed and if there's any questions regarding that, please feel free to contact the Museum staff.
---
"Please read: This attraction contains bright flashing lights, lasers, fog machines, scent devices, loud noises, startle effects, confined spaces, stairs, and dark areas. If any of this harms you or you know you will have a bad reaction, do not enter.
You should not enter this attraction if you have asthma, heart conditions, are prone to seizures, physical ailments, respiratory or any type of medical problem, are pregnant, or suffer any form of mental disease, including claustrophobia. Do not come to this attraction if you are drunk or high. The Haunt is NOT recommended for children under 13. No refunds will be issued." Source
---
Have a spooky good time and maybe prepare yourself for a scary time!
---
20 Horror Movies To Watch During Halloween
---
13 Spooky-But-Not Scary Halloween Movies
These films are perfect for people who love Halloween but don't love super scary movies.
---
Don't Be The House on the Block That Serves These Halloween Candies
Halloween is just around the corner, and the kids are gonna be out and about trick-or-treating before you know it.
We want to make sure your house doesn't get egged or TP'd this spooky season, so here are the treats you should avoid handing out if you don't want to be tricked!
Gallery Credit: AZ, Townsquare Media