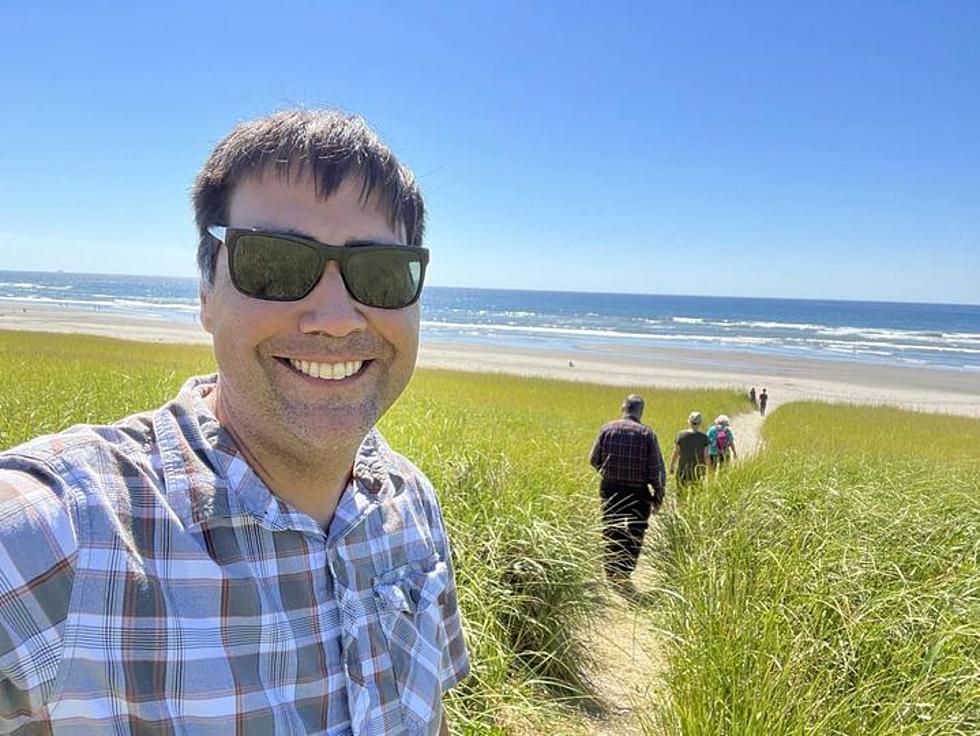 Radio Host Connor Shares His PNW Favorites
Connor on the Oregon Coast (Summer of 2022)
Hello. This is Connor, if you're new to the radio station or to my stories here on KW3.com and the free KW3 app, let me introduce myself. I grew up in the Pacific Northwest and got to work at the great KUBE 93.  After six years at Seattle's KUBE, I moved to the East Coast in the late 90s. I was fortunate to work at some legendary radio stations: WLIR on Long Island and Z100 in New York City. I then spent 5 years in Cleveland rooting for the Browns, Indians and Cavs while working at heritage Q104. In September of 2007, I drove my belongings and two cats & relocated here in Wenatchee. I have proudly called this place home ever since.
Here are my updated Pacific Northwest favorites. (Check out my last favorites list)
Place to Get Breakfast
It has to be The Wild Huckleberry in Wenatchee. There is a reason why its the best place to get breakfast and why you'll have to wait for a table. Why? It's great food, friendly waitstaff - all housed in a big roomy house. I like to order their huge plate sized pancakes with scrambled eggs and bacon.
If you're ever in the Seattle area - go find Voula's Offshore Cafe. I went here once or twice a day during my 20s. The family owned breakfast lunch establishment was featured on Guy Fieri's Diners Drive-Ins & Dives!
Place to get Lunch & Dinner
For me, either of these four places makes me happy.
* Pasta Del Soul at Garlini's in Wenatchee - One of the best places to grab pizza!
* Pizza at Benson Vineyards in Manson. (Check out my recent visit)
* Fish n Chips before a Seahawks/Mariners/Sounders game at the Owl 'N Thistle Irish Pub, located in an alley just below Seattle's 1st Avenue, not far from the downtown ferry terminal. Best Fish N' Chips in Washington State. Hands down.
* Grabbing a cinnamon Roll or a Turkey Sandwich and coffee at Wenatchee's Cafe Columbia. When you're done eating, go stroll and check out more vendors in Pybus Market.
Sports Team to Watch
I cannot wait to watch some WHL hockey with our hometown Wenatchee Wild at the Town Toyota Center (Hurry and grab your full or partial season tickets while you can.) My heart is always with the Mariners, Sounders and Huskies. The Kraken have recently caught my attention. I usually get updates on my smartphone on how all the above teams did. But it's the Seahawks who consistently take three hours out of my Sundays to watch on TV or in person.
Local Musicians
Gotta go with Sir Mix-a-Lot, Macklemore, Nirvana & Pearl Jam. Local Wenatchee singer (and one time KW3 host) Elaine Eagle is great to see live.
Family Activity
I love taking the family to Leavenworth.
We also love playing in Lake Chelan, both in town at Don Morse Park or driving over to the South Shore's 25 Mile State Park.
Singletrack to Bike or Run on
My favorite mountain bike segment is the Full Lightening Climb in Sage Hills. My favorite running route is Forbidden Ridge, a route I recently discovered. Hiking or running up to Colchuck Lake is challenging and worth it, just to get to see the lake and Dragontail Peak in person. Seeing it up close beats any picture.
Wenatchee Hot Take
It's the most beautiful place on planet Earth. People who don't live here will say, it's not Chelan or Leavenworth. You really can't beat living here, it's close to everything worth seeing in the state and (the thing I MOST love) we don't have to struggle 4 or 5 hours in an RV or a truck hauling a boat - we're already here in vacationland!
6 Common Washington State Laws I'm Sure You Break on a Daily Basis
I'll fess up to breaking one of these laws on a daily basis, how about you?
4 of the Creepiest and Coolest Underground Tunnels in Washington State
Come explore some of Washington State's coolest and creepy underground tunnels for a unique adventure! Dust off your walking shoes and come along - we've got tales to tell.